Takshila International School, Mandi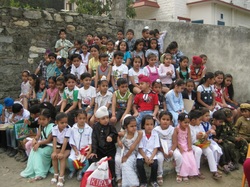 Our motto
The School Motto is ", PREGUNTA, ENTENDER, APLICAR ," which, when translated from Spanish to English, reads "Question, Understand, Apply". The motto is befitting the Curriculum and Aim of the School, which endeavors to build strong foundations of the Mind, Body and Spirit by way of seeking, analyzing and practicing knowledge in all facets of life.
-our methodology
- our facilitators
Message from the school governing council
Welcome to Takshila International School Mandi. It was founded in the year 2006 and started our first school named Kido King. The TIS is about the freedom to experiment, to think differently and to be an individual. We are all proud of our school and hope that you will come to share that feeling with us. The prime aim of our school is to give each child the opportunity to develop his/her own potential by laying the foundations o a balanced education. We teach children to appreciate the needs of others and understand that both inside and outside the school we have responsibility as well as rights. In other words, any child who is admitted here will be transformed not just in thought but in deeds as well.
According to an old proverb, "It takes a whole village to raise a child". Values cannot be taught from a single platform and dimension but it needs a collaborative effort on the part of parents, family as a whole as well as the school.
Get latest information and updates on recent events at Takshila
http://www.facebook.com/groups/232846263479283/photos/
---